Champion Landing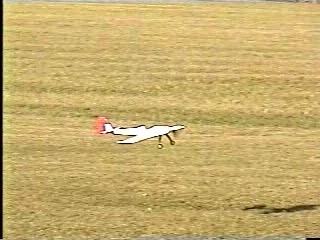 Champion Takeoff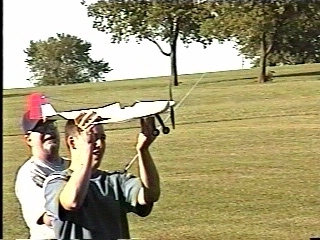 Details:
Available from Hobby Lobby
Wingspan = 28-3/8"
Wing Area = 218 sq.in.
Flying Weight ~ 10oz.
Fuselage Length = 22-3/4"

Construction:
Fiberglass fuselage weighing less than 1oz.
Molded carbon fiber landing gear
Wing and tail surfaces are constructed with balsa and covered with Litespan
3:1 gearbox and MIG280 motor
Molded engine cowling
Plastic spinner
Pushrods, mounting hardware are included
Plane is designed to fly with rudder, elevator, ailerons, and throttle, but our model only included the control of ailerons, elevator, and throttle more or less to save weight.

Complaints:
To fasten the gearbox to the fuselage requires something just short of miracle. This requires some patients... The alignment of the gearbox, screws, and fuselage is a little clumsy.

The way in which the battery is secured in the plane is sort of left for the individual building the plane to decide. Basically, there just wasn't an included method in the kit to mount the battery. I guess GWS has spoiled us on this. We ended up stuffing some foam inside the cockpit.

The plane is difficult to hand launch. There just isn't an easy way to hold the plane, due to the low wing configuration. When you try to hold the fuselage behind the wing, it(fuselage) begins to deform(squeeze in). We fixed this by gluing a small balsa stick inside the fuselage walls to give it more support. Your best bet is to find a location that would allow the champion to take off from a paved surface.

Besides these small things the plane went together well.

Flying:
The plane flys excellent, and has plenty of power. Loops and rolls can be easily achieved with full power. In my opinion this would make an excellent "second" plane for a beginning pilot.
Champion Pictures