StarLITE Take Off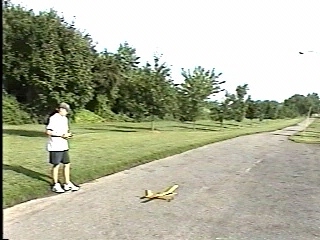 Details:
Available from Herr Engineering
Wingspan = 36"
Wing Area = 218 sq.in.
Flying Weight ~ 3.5 to 4 oz
Wing Loading ~ 2.3 to 2.6 oz./ sq.'

Components Used (not included):
Wes-Technik MSYS 524-1 Motor & drive system turning 23/12cm Carbon fiber prop (2) Hitec HS-55 servos
JMP HF9 speed control (clock frequency is 133mHz, better for coreless motors)
(BEC 5.0V, max. 0.7A, good for lithium cells)
MX-6800 PICO RX receiver

Construction:
Laser Cut Parts
Balsa Strip Wood, Wheels
Carbon Rod Landing Gear and Pushrods
Tissue Covering
Full Size Plans
Motor Mount Parts
Instruction Manual
Plane is designed to fly with rudder, elevator, and throttle

Complaints:
No complaints about the construction of this kit.

Flying:
The plane flies excellent, and has plenty of power. My only complaint would be that this plane could only be flown on days when there is absolutely NO WIND. I've tried to fly my StarLITE in just the slightest breeze and found myself fighting the controls just to keep the plane aloft. What can you expect for a plane that only weighs 4oz.? I decided to power the StarLITE with 3, 3V, 430mAh Lithium Cells. With this battery pack Im seeing flight times in excess of 40 minutes, and by that time I'm just about sick of flying.

Starlite Pictures